After far, far too long without any activity in this section I decided it's time to breathe some life into these dry bones.
As most of you know I have had metal detectors for a while and have had some success here and there. Well this year I had decided to get truly serious and "learn" the machines and see what goodies the earth holds that it might be persuaded to let go of......so when I went on my summer campaign I brought along my very cheap and decidedly anti-high-end Bounty Hunter. I also have another Bounty Hunter that lived in a closet at my dad's house for approximately forever. He gave it to me and I after discovering there was a working machine beneath all the dust I got hot on learning it.
Here are a few pics of what I've done: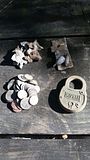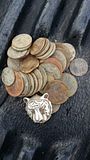 I could go on and on but as I am fond of saying on the fb Bounty Hunter page "you can only pretend or feign interest looking at piles of clad change". So I'll spare you all that. But it seems the ground is moe than happy to give up lots of change, and I mean LOTS of it, along with some various relics, fine fishing sinkers, wheel weights, battery terminals (the sinkers may be used in their original capacity or also may join the terminals and wheel weights in the smelter), tools, and even some silver jewelry. I think one of the pics I shared has a silver tiger head I found at a ball field Down The Bayou here in south Louisiana (I'm currently taking a pile of classes, which I collectively term "skools" for my Captain's license I hold and also chasing a Master Any Gross Tons next year). While not team-related I feel this was an LSU Tiger fan who likely ripped it from around her neck and buried it in the ground last year after my Arkansas Razorbacks put an absolute ***-whipping on the vaunted Tigres.....also recovered was a fine silver pimp dollar sign from a playground. All this stuff adds up and when you hit somewhere like the aforementioned ball field that is coughing up quarters every few swings it can add up quickly. I do most of my detecting when it's too hot to fish or hunt and therefore am getting outside and doing something productive during what would otherwise be down time.
I have probably done close to $40.00 cash face value on the clad coinage not to mention the silver stuff I've been getting into lately and most of it on a free machine that serious people wouldn't be caught using. But it works well enough for me. My favorite machine, to this point, is the Bounty Hunter Pioneer 101. This model is supposedly out of production but lives on in their perennial classic Tracker IV. You can get one used on ebay or Craigslist for fifty or less dollars if you spend some time looking. Many, if not most used machines will be hardly/barely used, put away, allowed to sit a long time, then put up for sale. No, it's not a Minelab and that's ok. But it is a clad killer and it's making me happy so it's good enough.
I'm nowhere near an authority on this topic but I am happy to help any of you who have any questions. Oh, and how about that killer brass padlock? Isn't that cool?